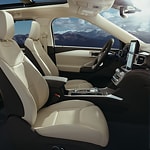 The ever-popular three-row SUV known as the Ford Explorer continues to make headlines in the new car world. It is purposely designed to outshine its competition. Learn what new design features are available in the all-new Ford Explorer today.
To begin with, it is made to take a commanding presence on the road. It has a large, sturdy build that takes the lead in traffic. It holds its own and can out power even the most formidable of competition.
The new Explorer from Ford also has ample seating for everyone in your family. You can easily fit seven people in the SUV. There are seven individual seats that can accommodate full-grown adults.
Getting in and out of the second and third-row seats is no problem. The outer middle row seat folds down to allow for back-row seat passengers to exit easily without having to climb over seats.