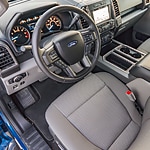 At Mankato Ford, we come across a lot of people who have heard of the Ford F-150 but think of it as just another run-of-the-mill pickup truck. At first glance, we understand that that might seem like the F-150 is, but there's a reason it's been one of America's top-selling vehicles for decades.
At Ford, designers put performance first, but their tech integration is another strong suit. The F-150 comes with a number of technology features that make it a leading pickup. These include features like the available 360-degree camera, which gives drivers more awareness, and FordPass Connect, which makes it easy to listen to music, sync up devices, and more.
If the Ford F-150's technology features have made you think of this vehicle as something more than you thought than come test drive one to see how they really function. At Mankato Ford, the F-150 is waiting for you to test drive it!